Whether Film tracks, Jingles or backing tracks for bands and Soloists, the M&M Music Concepts team has been clouding the difference between MIDI and Live arrangements for years. Listening to many of our arrangements, you can never be sure if you're hearing actual live musicians or pure electronic dazzle. When complex, succulent music is needed and you only have a limited budget, M&M Music Concepts can cater for your every need.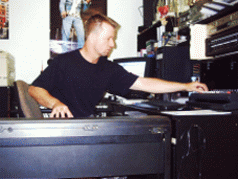 For many years now, midi has exerted a tremendous influence on all types of music. One of the most fundamental applications of this technology is recording, storing and manipulating sequences of midi messages that represent all types of performance.


We use only the best sound manipulating software and keyboards to create a realistic sound, that can be easily converted to audio wave format. And from there can be stored on disk as SMF General Midi for use in most General Midi devices. Whether it be rock, pop, country, jazz or swing, our sequencing team will work with you to get the sound you want.
Below are a few samples of Midi songs created at M&M Music Studios...